The Humble Bee Apiary

Hyalite Farm Humble Bee Wildflower Honey
Honeybees are absolutely fascinating. I started with two traditional Langstroth hives and have grown to five. My queens are a Russian-Yugo-Carniolan cross from
Tabor's Honeybee Genetics
in Northern CA. I prefer this type of bee because they have coexisted with the varroa mite long enough to have developed some degree of natural resistance to the mite's parasitism. The bees collect pollen and nectar from a variety of sources within our 3 square mile radius including clover patches, alfalfa fields, vegetable gardens, fruit trees, shrubs, and a variety of weeds.
I make a nice healing salve with the extra wax the bees produce. These "Humble Bee Pucker Ups" work well for chapped lips, cracked fingers, dry hands, even rough feet. Other ingredients I use to make my salves (and soaps) come from
Mountain Rose Herbs
, a company located in Oregon known for carrying highest quality products while emphasizing sustainable harvesting practices. Check out the
For Sale
page to see if I have any Humble Bee honey or healing salves available.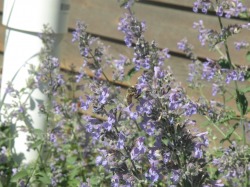 A bee working the catmint
Humble Bee honey is truly 100% wildflower honey! We have many native shrubs, weeds, flower gardens, vegetable gardens, fruit trees, alfalfa fields, and clover in the area. The girls work very hard bringing in the nectar and we sure appreciate their efforts. Once harvested I strain my honey and bottle it raw. It is chock full of unadulterated, unmedicated nutrients. Humble Bee honey is exceptionally light and full of flavor. Did you know over the course of her entire life (roughly 6 weeks in the summer) a worker bee produces only 1/10 teaspoon of honey? At that rate it takes roughly 10,000 bees to gather one pound of honey!
---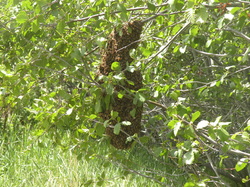 swarm!



One of my hives swarming. Luckily I saw them and was able to put them into my top bar hive.
---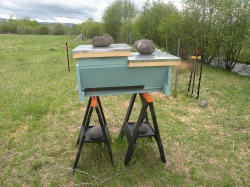 Spikenard Top Bar Hive
This Spikenard Top Bar hive was built by New England Farms in up state New York. Why did I want to try a top bar hive? I find the idea of bees drawing out their own comb in its more natural form very appealing. Also, with a horizontal hive configuration I don't have to worry about moving heavy boxes around. The bees draw a comb from each individual top bar and work their way horizontally through the hive. The Spikenard is designed so that honey supers can fit over one end of the hive. Therefore, extracting the extra honey is easy since it is capped in traditional Langstroth style frames. Additionally, if a person wants to harvest some comb honey directly from the top bars that is possible with this type of hive as well.
---