RAMS FOR SALE
All Hyalite Farm rams are tested for B. Ovis, OPP and CL prior to entering the farm. Hyalite Farm Icelandic sheep are registered and come from horned stock without polled ancestors. Rams are $400 each although I offer a multi purchase discount for some stock if you buy more than one animal. Price includes registration fee.

*I will list the names of ewes for sale who are not related to each individual ram in case you want to purchase ewes with a ram*
​
**$100 non refundable deposit required to reserve your choice of lambs.**​
---
Qi's 2017 White Ram "Quill"
Born 4/6/2017 by Boris.

Qi's rams are built well with great confirmation, long bodies, and wide hornsets. They are white, carry solid, carry moorit and/or black, and carry spotting. Quill is still available.
**Quill is related to all ewes for sale**

---
HYA RAM M2H 18C "Tai"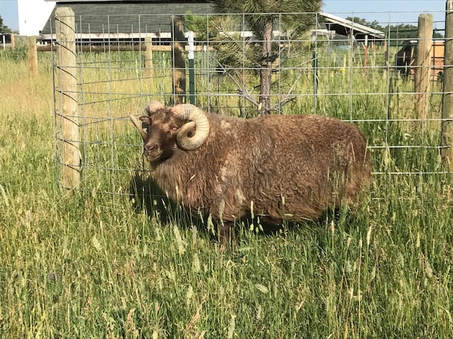 "Tai" is a lovely grey moorit and carries solid. Large lamb and very fast growing. Exceptional confirmation, long body, broadly built, good depth, lovely fleece. Wide hornset. Grand Champion Icelandic Ram and overall Supreme Ram at the annual ISBONA show at the Big Sky Fiber Festival in Hamilton, MT on June 13, 2015. The judge could not have been more complementary of this guy! Only selling because he is related to everyone.
​**Tai is related to all ewes for sale**

DOB: 3/15/15 (twin)
Sire: DAI EITILL RAM 01H 1241Z "Mani" (twin)
Dam: TCE EWE M2H 597X "Runa" (single)
---
---
TOC Boris Ram B5SH 4D "Boris"
Boris is a 2016 ram who came from Ten O' Clock Farm in Oregon. He is a wonderful addition to the flock and has contributed excellent fleece genetics along with solid structure and a wide hornset.

He has many 2017 lambs on the ground and I am very happy with how they look and how fast they are growing.

Boris has a good disposition and I would like to see him go to work on a farm where he isn't related to so many ewes. **Boris is not related to Seela, Qi, or Portia**

DOB: 4/2/2016 (Twin)

Sire: DFO LUX B5H 199A (twin)

Dam: RHS EWE NATASHA M5H 4Z (twin)
---
TOC Thor 01H 028E "Thor"
Thor is a 2017 ram from Ten O'Clock Farm in Beavercreek, OR. He is a nice growing ram with an exceptionally soft fleece and a nice hornset. Thor carries moorit and possibly spotting from sire. He carries either moorit or black from his dam, possibly spotting as well but the spotted ancestor is a few generations deep. Not available to leave until Jan 1 (my only ram in use this season) *Thor is not related to any ewes for sale*

DOB: 3/27/2017 (Twin)
Sire: Cascade Ram M5H 146C (twin)
Dam: THVN Snowflake Ewe 01H5A (twin)