Junior Does
---
Hyalite CM Anne Bonnie "Bonnie" ​
DOB: 3/2/2017 (twin)
Bonnie is a lovely doe born 3/2/2017. She is a wide doe with excellent confirmation, lovely balance, and a sweet personality to boot. I'm excited to be able to retain this little beauty in the herd.
SS: Castle Rock Ice Man *B VVV 86 (1-06)
Sire: Anchors Aweigh IM Capt Morgan VEV 87 (1-03)
​SD: Castle Rock Irish Coffee 2*M VVEV 87 (2-06)

DS: Stayawhile TV Newsworthy *B +VE 82 (1-03)
Dam: Stayawhile NW Compass Rose V+V+ 84 (1-05)
​ DD: Hidden Gems GK Aulani 3*M VVE+ 85 (1-05)

Show Record
2017: WDGA Fuzzy Dairy Goat Show Torrington, WY 5/26/17
2 X 1st Place Interm Jr Does (Christine Grant; Rusty Repp)
Central MT Dairy Goat Show Choteau, MT 7/15/17
1X 2nd Place (of 9) Jr does >4 mo <8 mo (Dan Laney)
​ (Second to eventual junior grand champion doe)
---
Stayawhile TZ Acceleration "Ace"
DOB
: 3/14/2017 (triplet)
Acceleration is another lovely Stayawhile doe whom I am thrilled to welcome into my herd! Just look at the milk genetics and strong LAs on both sides of her pedigree. Ace is very correct and dairy, she stands on strong feet and legs. Looking forward to watching this spunky little doe grow.
SS: Stayawhile TV Newsworthy *B +VE82 (at 1-03)
Sire: Stayawhile NW Time Zone *B
​ SD: SGCH AGS Honey Goat Blondie 1*M VVVV87 (2014)
​
DS: SG Rosasharn SH Guyku +*B VEE 90
Dam: SG Hidden Gems GK Southern Charm 2*M VVVV 87
DD: SG Elfin Acres Poppy 1*M VEEV 88

Show Record
2017: Bitterroot Dairy Goat Show Hamilton, MT 6/24/17
1 X 2nd Place Junior Doe in class of 17 (Kellie Kahtani)
​ (Second to the eventual grand champion Junior Doe)
---
Hyalite CM Dixie Twist "Dixie"
DOB: 5/22/2017 (single to a FF yearling)
SS: Castle Rock Ice Man *B VVV86 (1-06)Sire: Anchors Aweigh IM Capt Morgan VEV 87

(1-03)

SD: Castle Rock Irish Coffee 2*M

VVEV87

(2-06)

DS: SG Rosasharn SH Guyku +*B VEEE 90 (3-03)

​

Dam: SG Hidden Gems GK Southern Charm

2*M

VVVV87

3-05

DD:

SG

Elfin Acres Poppy 1*M

VEEV 88

(6-11)

Show Record
2017: Central MT Dairy Goat Show Choteau, MT 7/15/17
2X ​2nd Place (out of 8) Junior Does under 4 months
Dan Laney ring 1; Kellie Kahtani ring 2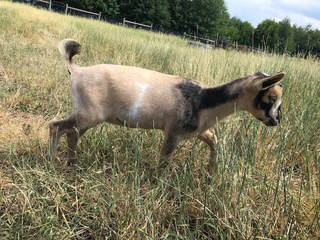 ---
DLMG Farms LJ Valencia "Lenny"
DOB: 2/26/2017
Lenny is the newest addition and comes from Diamond L Goats in Hermiston, Oregon. Her sire, Jethro, made quick work of his finished championship earning 3 legs and a reserve grand in 4 rings this summer. Lenny will bring some nice new genetics to the herd and will likely be bred to Closing Time for 2018 kids.

SS: Rosasharn GF OBA VEV 87 (4-01)
Sire: GCH Almar Acres O Leroy Jethro G *B VVE 88 (3-01)
SD: SGCH Castle Rock Angelika 3*M VVEE 90 (3-04)

DS: Loperrized BLP Percy VEV 88 (1-04)
Dam: Angel Wings PS Fireleana +VV+ 84 (2-02)
DD: Loperrized TT Samira +V+A 80 (1-04)
---
Hyalite CM Solar Eclipse "Eclipse"
DOB: 8/14/2017

Eclipse is a nice doe born later in the summer and I am excited to be able to retain some of my Lost Valley and Old Mountain Farm genetics with this one.

SS: Castle Rock Ice Man *B VVV86 (1-06)
Sire: Anchors Aweigh IM Capt Morgan VEV 87 (1-03)
SD: Castle Rock Irish Coffee 2*M VVEV87 (2-06)

DS: Old Mountain Farm John David *S/*B +EV 85 (7-04)
Dam: Hyalite JD Summer Sunshine
DD: Lost Valley CC Summer Solstice VVVV 88 (3-04)