Junior Does
---
Hyalite CM Anne Bonnie "Bonnie" ​
DOB: 3/2/2017 (twin)
Bonnie is a lovely doe born 3/2/2017. She is a wide little doe with excellent confirmation, lovely balance, and a sweet personality to boot. I'm excited to be able to retain this little beauty in the herd.
SS: Castle Rock Ice Man *B VVV 86 (1-06)
Sire: Anchors Aweigh IM Capt Morgan VEV 87 (1-03)
​SD: Castle Rock Irish Coffee 2*M VVEV 87 (2-06)

DS: Stayawhile TV Newsworthy *B +VE 82 (1-03)
Dam: Stayawhile NW Compass Rose V+V+ 84 (1-05)
​ DD: Hidden Gems GK Aulani 3*M VVE+ 85 (1-05)

Show Record
2017: WDGA Fuzzy Dairy Goat Show Torrington, WY 5/26/17
2 X 1st Place Interm Jr Does (Christine Grant; Rusty Repp)
Central MT Dairy Goat Show Choteau, MT 7/15/17
1X 2nd Place (of 9) Jr does >4 mo <8 mo (Dan Laney)
​ (Second to eventual junior grand champion doe)
---
Stayawhile TZ Acceleration "Piggy"
DOB
: 3/14/2017 (triplet)
Acceleration is another lovely Stayawhile doe whom I am thrilled to welcome into my herd! Very correct and dairy, she stands on strong feet and legs. Looking forward to watching Acceleration grow over the next few years.
SS: Stayawhile TV Newsworthy *B +VE82 (at 1-03)
Sire: Stayawhile NW Time Zone *B
​ SD: SGCH AGS Honey Goat Blondie 1*M VVVV87 (2014)
​
DS: SG Rosasharn SH Guyku +*B VEE 90
Dam: SG Hidden Gems GK Southern Charm 2*M VVVV 87
DD: SG Elfin Acres Poppy 1*M VEEV 88

Show Record
2017: Bitterroot Dairy Goat Show Hamilton, MT 6/24/17
1 X 2nd Place Junior Doe in class of 17 (Kellie Kahtani)
​ (Second to the eventual grand champion Junior Doe)
---
Hyalite CM Dixie Twist "Dixie"
DOB: 5/22/2017 (single to a FF yearling)
SS: Castle Rock Ice Man *B VVV86 (1-06)Sire: Anchors Aweigh IM Capt Morgan VEV 87

(1-03)

SD: Castle Rock Irish Coffee 2*M

VVEV87

(2-06)

DS: SG Rosasharn SH Guyku +*B VEEE 90 (3-03)

​

Dam: SG Hidden Gems GK Southern Charm

2*M

VVVV87

3/05

DD:

SG

Elfin Acres Poppy 1*M

VEEV 88

(6-11)

Show Record
2017: Central MT Dairy Goat Show Choteau, MT 7/15/17
2X ​2nd Place (out of 8) Junior Does under 4 months
Dan Laney ring 1; Kellie Kahtani ring 2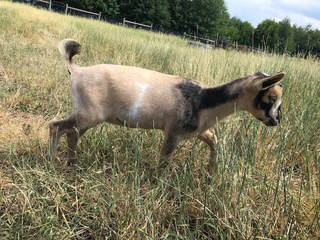 ---
DLMG Farms LJ Valencia "Lenny"
DOB: 2/26/2017
Lenny is the newest addition and comes from Diamond L Goats in Hermiston, Oregon. Her sire, Jethro, made quick work of his finished championship earning 3 legs and a reserve grand in 4 rings this summer. Lenny will bring some nice new genetics to the herd and will likely be bred to Closing Time for 2018 kids.

SS: Rosasharn GF OBA VEV 87 (4-01)
Sire: GCH Almar Acres O Leroy Jethro G *B VVE 88 (3-01)
SD: SGCH Castle Rock Angelika 3*M VVEE 90 (3-04)

DS: Loperrized BLP Percy VEV 88 (1-04)
Dam: Angel Wings PS Fireleana +VV+ 84 (2-02)
DD: Loperrized TT Samira +V+A 80 (1-04)