Ewes

All Hyalite Farm sheep are negative for OPP and CL. I test for CL before any goats or sheep enter the premises. I don't retest for CL as I have never had a case of CL on farm. I have a disease free flock and plan to keep them that way!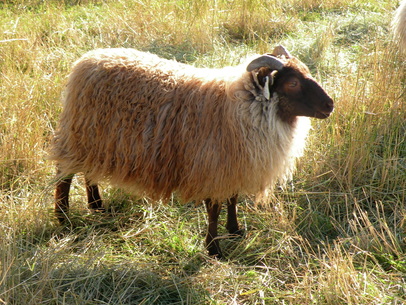 Runa is a beautiful moorit/grey (carrying solid) ewe from The Creek's Edge in South Dakota. She is 68% AI bred from Grani, Lodi, and Kveikur lines. Runa has excellent confirmation, a beautiful head, nice fleece, and a calm disposition. She is a heavy milker with an extremely capacious udder. Runa produces fast growing lambs who consistently show excellent confirmation. Over the years her ram lambs have won multiple awards at the ISBONA national shows including reserve and grand championships.
DOB: 4/17/2010
Sire: TCE AI RAM 01H 524W
Dam: TCE AI EWE B2H 414U
---
---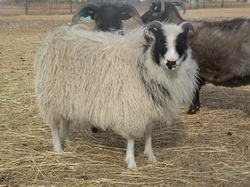 Polly at 4 months
Polly is a beautiful ewe, thick boned with straight legs and a wide based stance who consistently produces fast growing lambs. Polly is by "Balder" and out of a ewe named "Petunia" from Poor Orphan Creamery located in Laurin, MT. This creamery raises Icelandic sheep for the breed's wonderful milk, and has developed a variety of sheep based artisan cheeses. Polly has a lovely (spotted) black grey fleece and a strong, solid structure.
DOB: 6/25/2013 (twin)
Sire:
HYA RAM 01H 1Y
"Balder"
Dam:
WBL Petunia EWE B2P 11X
"Petunia"
---
---
HYA EWE M2H 15B "Fern"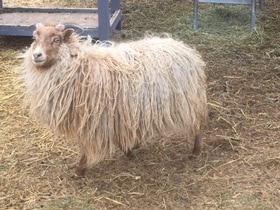 Lilly's 2014 ewe lamb "Fern". Moorit, grey, carries solid from dam, carries spotting from dam. Good confirmation, nice top line, straight legs, great length and depth. Her fleece is exceptional. Fern had a single Ram lamb spring of 2016, "Forest", who won ISBONA's Grand Champion Icelandic Ram and then the Diamond Award Supreme Grand Champion Ram (best ram in show) at the 2016 Oregon Flock and Fiber Festival in Canby, OR.
​DOB: 7/14/2014
Sire: DAI Eitill RAM 01H 1241Z "Mani"


Dam: LVR EWE M3SH 98W "Lilly"
---
---
---
HYA LILU 01H 23C "Lilu"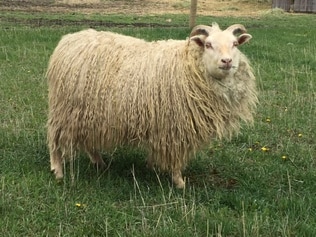 Lilly's 2015 ewe lamb "Lilly Lu" is a full sister to Fern. She is white and carries moorit, spotting, and badgerface from dam. Lilu likely carries black from her sire, Mani. She is raising lovely, twin badger ewe lambs this year.
​
DOB: 4/24/2015
Sire: DAI Eitill RAM 01H 1241Z "Mani"
Dam: LVR EWE M3SH 98W "Lilly"
---
---
HYA EWE B2H 20C "Pepper"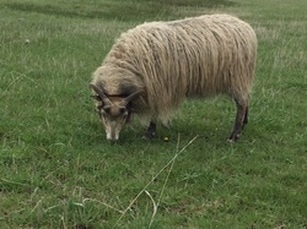 Pepper is a lovely Black, homozygous grey ewe who carries spotting from her dam, Polly, and either black or moorit from sire. Pepper is a friendly ewe who is raising two fast growing twin ewe lambs this year. She has excellent confirmation and a nice fleece.

DOB: 4/11/2015
Sire: DAI EITILL RAM 01H 1242Z "Mani"
Dam: WBL POLLY EWE B1SH 4Z "Polly"


---
---
HYA EWE 01H 19C "Qi"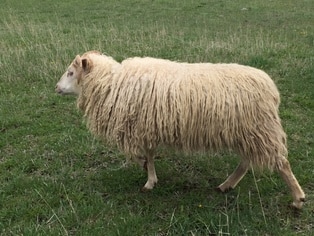 Runa's 2015 ewe lamb "Qi" (twin to ram lamb "Tai") was bred to "Borris" for 2017 lambs and produced two gorgeous white rams. Qi is white, carries moorit from dam, and likely moorit from sire since there is no black pigment to be found. She carries either grey or solid from her dam. Her rams are fast growing, structurally correct, and have very wide hornsets. Either would make an excellent flocksire!

​DOB: 3/15/2015
Sire: DAI EITILL RAM 1241Z "Mani"
Dam: TCE EWE M2H 597X "Runa"
---
---
HYA Hee M2H 32D "Heela"
---
Lillu X Borris 2017 Ewe Lamb "Lyra"
---
Runa X Borris 2017 Ewe Lamb "Reyn"
---
Pinot X Tai 2017 Ewe Lamb "Shadow"
Reference Ewes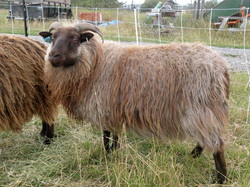 This gray moorit ewe, Hazel, came from Aspenlund Farm in Hamilton, MT. She is a proven mother and prolific milker with a friendly personality. Hazel has consistently produced large, fast growing lambs and has earned her retirement here on the farm. Her 2015 yearling ram lamb, Haskell, is for sale and will make an exceptional flock sire. Two of her daughters, Helga (2015) and Heelah (2016), will remain on the farm.
​
DOB: 4/26/08
(twin)
Sire:
OLNESS RAM 03SH 4T
Dam: ACW HBT EWE 18S
---
---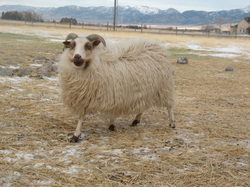 Lilly was a beautiful badger faced moorit ewe with heavy spotting bred by Leveque Ranch in Cascade, MT. She had a soft, dense, lustrous fleece and an amazingly friendly disposition. Lilly's AI background includes Aegir and Bambi. I have retained two of Lilly's ewe lambs, Fern and Lilly Lu. Fern's 2016 ram lamb "Forrest" is an exceptional ram with excellent confirmation and a gorgeous fleece. Lilly Lu is an unbred yearling.
DOB 4/19/09
(twin)
Sire: LVR RAM M5H 514R
Dam: LVR AI EWE 01P 79T
---
---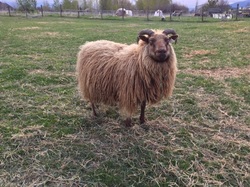 Bea at 3 months
Bea is a lovely solid moorit ewe out of Boo by Greyson. Bea has a gorgeous fleece, won best Icelandic fleece in the ISBONA show at the Oregon Flock and Fiber Festival 2014.
DOB: 4/17/12 (twin)
Sire: Greyson
Dam:
Boo
---