Bucks
Hyalite Farm goats are tested yearly for CAE. The latest herd test was performed in September 2016 and all results continue to be negative on all does and all bucks. I test for CL before any goats or sheep enter the premises. I don't retest for CL as I have never had a case of CL on farm. Montana is a TB free state and all goats that enter MT must test negative before import. Any outside does that breed to my bucks must have a current CAE negative test.
Stayawhile CR Closing Time
DOB
: 3/3/2017 (triplet)
This is a lovely solid chocolate buck with an incredible pedigree behind him. So happy to welcome him to the herd.
Sire:

Dill's BJ Curiouser

*B VVV88 (at 1-03)

SS: SG Dill's TS Banjo +*B

SD: SG Dill's KJ Misstery 1*d/1*M VEEE90 (at 5-05)

Dam:

Stayawhile HC Midnight Cruz

5*M VVVV85 (at 1-06)

DS: Rosasharn NP Honeymoon Cruz *B VVE87 (at 2-03)

DD: Fuji Farm FFS Mazy 4*M VEEV 87 (at 3-02)

Show Record

:

2017

:

WDGA Fuzzy Dairy Goat Show

Torrington, WY May 27

-2 X

1st Place

Jr Bucks (Joshua Kaplewski; Paula Reisdorff)

​
---
Morgan is a handsome
polled
addition from Anchors Aweigh and Seven Winds Farm outside of Great Falls, MT. He has excellent confirmation, strong dairy character, and great body capacity. He's a very upright buck with a wide estucheon. Morgan is a well balanced buck, even as a yearling. His paternal grand dam, Castle Rock Black Ice, was the first place aged doe at the 2015 ADGA National Show and was awarded Total Performer. Click HERE to see Morgan's impressive pedigree.
Sire:

Castle Rock Ice Man *B VVV 86 (1-06)
SS: Castle Rock Chicago Peace
SD: GCH CRF Castle Rock Black Ice 2+M EEEE 92 (7-02)

Dam:

Castle Rock Irish Coffee 2*M VVEV 87 (2-02) and ++V+84 (4-06)
DS: CRF Castle Rock Harvest Moon +B
DD: GCH CRF Castle Rock Irish Cream 1*M +VEV 87 (4-02)

Show Record

:

2017

:

WDGA Fuzzy Dairy Goat Show

Torrington, WY May 27

-1 X

1st Place

Yearling Bucks (Paula Reisdorff)

-1 X

2nd Place

Yearling Bucks (Joshua Kaplewski)

​
---
Old Mountain Farm John David *S/*B (JD)
DOB: 2/27/10 (quintuple
t)


2017 LA: +EV 85 (at 7-04)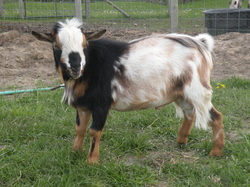 JD 1 years old


JD has a wonderful disposition. I didn't think a buck could be so personable! He came to Hyalite Farm in April 2010 and is by OMF Black Tulip out of Sugar Moon Indian Summer. He shows many desirable dairy characteristics including a long body and correct top line. JD comes from excellent dairy lines. According to his breeder, JD's dam "is a lovely dairy doe with a magnificent udder, and his sire has been proving himself with daughters who have well attached and capacious mammary systems with easy expressing teats".
​
SIRE:
SG Old Mountain Farm Black Tulip +*B
DAM:
Sugar Moon Indian Summer
3*M VVE+ 87 (at 10-03)
(older link but has her photo and some more pedigree information)
---
---
Hyalite JD Chopofftheoldblock
DOB: 3/31/2016 (twin)
2017 LA: +VV 85 (at 1-03)
For Sale: $200